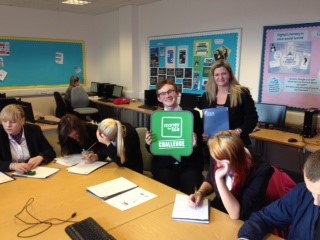 On the 29th January Louise Worden was out of the office. She went back to her former college, South Devon College.
This was not a study day, not for her anyway. This was an opportunity Louise was taking to share her knowledge of finance with the local community.
A small group of Travel & Tourism students were hoping to put together a support group called Memory Lane Café. The idea was to hold a monthly session which allowed people who care for dementia sufferers to come and obtain unbiased financial advice.
They first approached Louise at the beginning of January, asking if she had any time to come and talk to them about how local people could best manage the money of their loved ones or people in care who could no longer look after their own financial affairs. This small group of students wanted to provide a safe place where people could come to gain general advice.
Louise was happy to help and prepared a presentation which she gave to the students at the end of January. This gave them lots of information and ideas on how they would proceed with their idea.
We are now happy to announce that the very first Memory Lane Café session will be held on Thursday 24th February in the Greenhouse Café in South Devon College from 2 – 4 pm.
Karen Dorow the tutor behind the students asked Louise if she would give another talk at this session to the carers of dementia sufferers about financial matters as she felt the presentation she originally gave to the students was so informative, Louise was happy to do so.
Not only is this a personal matter for Louise with her own family having suffered Dementia. Many of her existing work is dealing with clients already involved with these issues.