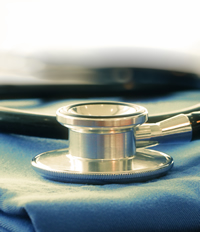 The Critical Factor
Would a tax-free 'lump sum' help if you became seriously ill?
Most home buyers purchase life assurance when they arrange a mortgage, but many overlook another form of financial protection that they are potentially more likely to need prior to retirement. Critical illness cover, also known as critical illness insurance, covers specified serious illnesses and provides a tax-free 'lump sum' – a one-off payment that could be used to help pay for your mortgage, liabilities or alterations to your home such as wheelchair access should you need it, but ultimately it's your choice how you use it.
Specified medical conditions Critical illness insurance will pay out if you are diagnosed as suffering from one of the specified medical conditions or injuries listed in the policy. But you need to be aware that not all conditions are covered, and the policy will also state how serious the condition must be. Conditions covered could include heart attack, stroke, certain types and stages of cancer, and conditions such as multiple sclerosis. Some policies may also include permanent disabilities as a result of injury or illness. Some policies may make a smaller payment for less severe conditions, or if one of your children has one of the specified conditions.
Major financial commitments People typically purchase critical illness cover when they take on a major financial commitment, and it also pays to start young when premiums should be relatively cheap, rather than leaving it until later in life when the price of cover can start to rise substantially. You might already have some cover included in other products or work benefits. However, if you don't, State benefits might not be enough to replace your income if something goes wrong. In this eventuality critical illness cover should be considered if you don't have sufficient savings to tide you over if you become seriously ill or disabled, or you don't have an employee benefits package to cover a longer time off work due to sickness.
Content of the articles featured in this publication is for your general information and use only and is not intended to address your particular requirements or constitute a full and authoritative statement of the law. They should not be relied upon in their entirety and shall not be deemed to be, or constitute advice. Although endeavours have been made to provide accurate and timely information, there can be no guarantee that such information is accurate as of the date it is received or that it will continue to be accurate in the future. No individual or company should act upon such information without receiving appropriate professional advice after a thorough examination of their particular situation. We cannot accept responsibility for any loss as a result of acts or omissions taken in respect of any articles.For more information please visit www.goldminemedia.co.uk